April 24, 2020
EEOB Publications April 1-April 30
Image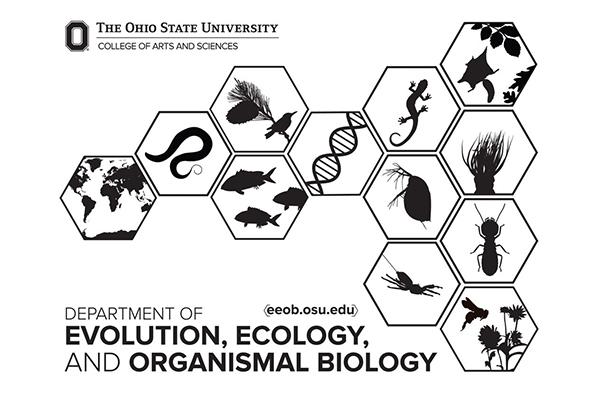 Description
Origin and evolution of the symbiosis between sea anemones (Cnidaria, Anthozoa, Actiniaria) and hermit crabs, with additional notes on anemone-gastropod associations
C. Gusmão, Vanessa Van Deusen, Marymegan Daly, Estefanía Rodríguez. 2020. Molecular Phylogenetics and Evolution. Volume 148, 106805
https://doi.org/10.1016/j.ympev.2020.106805
Abstract
The anemone-crab mutualism is ubiquitous in temperate and tropical marine environments. In this symbiosis, one or more anemones live on a shell inhabited by a hermit crab and reciprocal phoretic, trophic, and defensive benefits are exchanged between the partners. Sea anemone-hermit crab symbionts belong to three families: Hormathiidae (Calliactis and Paracalliactis), Sagartiidae (Carcinactis and Verrillactis), and Actiniidae (Stylobates). Hermit crabs establish most partnerships by detaching anemones and placing them on their shell; sea anemones can also mount shells unaided, triggered by a mollusc-derived substance in the periostracum of the shell. At least partial cooperation by the anemones is necessary for successful establishment of the symbiosis. Here, we expand the evolutionary framework for hormathiid symbionts by generating a phylogeny with at least one member of each actiniarian symbiotic genus with hermit crabs using five molecular markers (16S, 12S, 18S, 28S, CO3). We not only corroborated the results from a previous study by finding two origins of hermit crab symbiosis within Hormathiidae, but also found additional origins for hermit crab symbiosis within Actiniaria. We provide for the first time evidence of a close relationship between symbionts Carcinactis dolosa and V. paguri. The ability to secrete chitin by the ectoderm of the column is inferred to be broadly convergent within Actiniaria whereas the secretion of a chitinous carcinoecium by the pedal disc is a distinct but convergent morphological adaptation of several lineages within Actiniaria. Our finding of multiple origins for both the hermit crab and gastropod symbioses suggests that the shell-mounting behavior might only have been the precursor of the hermit crab association among Calliactis spp.
---
Trends and spatial patterns of 20th century temperature, rainfall and PET in the semi-arid Logone River basin, Sub-Saharan Africa
Asmita Murumkar, Michael Durand, Alfonso Fernández, Mark Moritz, Bryan Mark, Sui Chang Phang, Sarah Laborde, Paul Scholte, Apoorva Shastry, Ian Hamilton. 2020. Journal of Arid Environments. Volume 178, 104168.
https://doi.org/10.1016/j.jaridenv.2020.104168
Abstract
Sub-Saharan floodplains are sensitive to climatic changes in their upstream drainage basin, a major concern is given the dependency of millions of people for their daily subsistence. Understanding hydroclimatic trends and variability is critical for developing integrated coupled human and natural system models to evaluate future scenarios of vulnerability. Here we describe the historical climatic changes in the Logone River basin using grid-based climatic data during a time of concomitant human hydrological modification of the floodplain. Temporal trends were analysed by comparing two periods i.e. 1901/1921–1961 (pre-1960) and 1961–2013 (post-1960). Trends were analysed spatially based on the basin's two Köppen climatic zones: savanna (Aw) covering the southern upstream areas and semi-arid hot (BSh) covering the northern downstream areas. The results show significant increasing trends in maximum and minimum temperatures and potential evapotranspiration (PET), and non-significant decreasing trends in annual rainfall and number of rainy days, across the study area. These climatic changes on temporal and spatial scales play an important role for the coupled natural and human systems in the Logone floodplain.
---