May 26, 2020
EEOB Publications May 1 - May 31
Image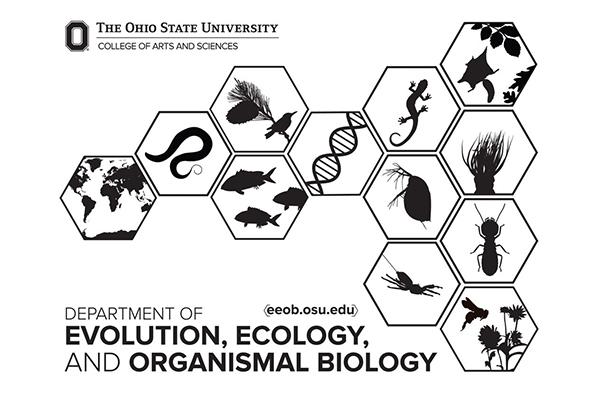 Description
Small-scale anthropogenic changes impact floodplain hydraulics: Simulating the effects of fish canals on the Logone floodplain
Apoorv Shastry, Michael Durand, Jeffrey Neal, Alfonso Fernández, Sui Chian Phang, Brandon Mohr, Hahn Chul Jung, Saïdou Kari, Mark Moritz, Bryan G.Mark, Sarah Laborde, Asmita Murumkar, Ian Hamilton. 2020. Journal of Hydrology. Volume 588, September 2020, 125035. https://doi.org/10.1016/j.jhydrol.2020.125035
Abstract
Assessing the impact of climate change on floodplain productivity poses unique challenges for hydrodynamic models. For example, the dynamics of floodplain fisheries are governed both by inundation dynamics across thousands of km2, and water storage timing within small depressions (which serve as fish habitat) connected to the river network by meter-scale manmade canals, controlled by flow across fishing weirs. Here, we propose to represent these features as a system of effective, interconnected sub-grid elements within a coarse-scale model. We test this strategy over the Logone floodplain in Cameroon, and its floodplain fishery. We first validate this strategy for a local study area (30 km2); we find that hydraulic models at resolutions from 30 m to 500 m are able to reproduce hydraulic dynamics as documented by in situ water level observations. When applied to the entire floodplain (16,000 km2), we find that the proposed modeling strategy allows accurate prediction of observed pattern of recession in the depressions. Artificially removing floodplain canals in the model causes residence time of water in depressions to be overpredicted by approximately 30 days. This study supports the strategy of modeling fine-scale interconnected features as a system of sub-grid elements in a coarse resolution model for applications such as assessing the sensitivity of floodplain fisheries to future climate change.
---
Forecasting the combined effects of anticipated climate change and agricultural conservation practices on fish recruitment dynamics in Lake Erie
David A. Dippold, Noel R. Aloysius, Steven Conor Keitzer, Haw Yen,
Jeffrey G. Arnold, Prasad Daggupati, Michael E. Fraker, Jay F. Martin,
Dale M. Robertson, Scott P. Sowa, Mari-Vaughn V. Johnson, Mike J. White, Stuart A. Ludsin. 2020. Freshwater Biology. 2020;00:1–22. DOI: 10.1111/fwb.13515 
Abstract
1. Many aquatic ecosystems are experiencing multiple anthropogenic stressors that threaten their ability to support ecologically and economically important fish species. Two of the most ubiquitous stressors are climate change and non-point source nutrient pollution.
2. Agricultural conservation practices (ACPs, i.e. farming practices that reduce runoff, prevent erosion, and curb excessive nutrient loading) offer a potential means to mitigate the negative effects of non-point source pollution on fish populations. However, our understanding of how ACP implementation amidst a changing climate will affect fish production in large ecosystems that receive substantial upstream sediment and nutrient inputs remains incomplete.
3. Towards this end, we explored how anticipated climate change and the implementation of realistic ACPs might alter the recruitment dynamics of three fish populations (native walleye Sander vitreus and yellow perch Perca flavescens and invasive white perch Morone americana) in the highly productive, dynamic west basin of Lake Erie. We projected future (2020–2065) recruitment under different combinations of anticipated climate change (n = 2 levels) and ACP implementation (n = 4 levels) in the western Lake Erie catchment using predictive biological models driven by forecasted winter severity, spring warming rate, and Maumee River total phosphorus loads that were generated from linked climate, catchment-hydrology, and agricultural-practice-simulation models.
4. In general, our models projected reduced walleye and yellow perch recruitment whereas invasive white perch recruitment was projected to remain stable or increase relative to the recent past. Our modeling also suggests the potential for trade-offs, as ACP implementation was projected to reduce yellow perch recruitment with anticipated climate change.
5. Overall, our study presents a useful modeling framework to forecast fish recruitment in Lake Erie and elsewhere, as well as offering projections and new avenues of research that could help resource management agencies and policy-makers develop adaptive and resilient management strategies in the face of anticipated climate and land-management change.
---
Modeling Larval American Shad Recruitment in a Large River
Elizabeth A. Marschall  David C. Glover  Martha E. Mather  Donna L. Parrish. 2020. North American Journal of Fisheries Management. https://doi.org/10.1002/nafm.10460
Abstract
Climate change is altering the spatial and temporal patterns of temperature and discharge in rivers, which is expected to have implications for the life stages of anadromous fish using those rivers. We developed an individual‐based model to track American Shad Alosa sapidissima offspring within a coarse template of spatially and temporally variable habitat conditions defined by a combination of temperature, river velocity, and prey availability models. We simulated spawning at each river kilometer along a 142‐km reach of the Connecticut River on each day (April 1–August 31) to understand how spawning date and location drive larval recruitment differentially across years and decades (1993–2002 and 2007–2016). For both temperature and flow, interannual variation was large in comparison to interdecadal differences. Variation in simulated recruitment was best explained by a combination of season‐specific spawning temperature and location along the course of the river. The greatest potential recruitment occurred during years in which June temperatures were relatively high. In years when June and July were warmer than average, maximum recruitment resulted from spawning taking place at the upstream portion of the modeled reach. Model scenarios (stationary or passive‐drift larvae; and dams or no dams) had predictable effects. We assumed that the pools above dams had negative impacts on eggs and yolk‐sac larvae that may have been deposited there. Allowing eggs and larvae to drift passively with the current reduced spatial differences in recruitment success among spawning sites relative to stationary eggs and larvae. Our results demonstrate the importance of spatiotemporal environmental heterogeneity for producing positive recruitment over the long term. In addition, our results suggest the importance of successful passage of spawners to historical spawning sites in the Connecticut River upstream of Vernon Dam, especially as conditions shift with climate change.
---