October 22, 2019
Publications By EEOB Faculty October 1 - October 31
Image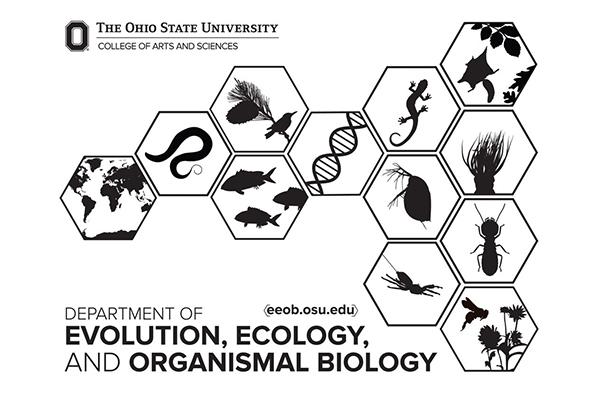 Description
Divergent color signals from homologous unfeathered ornaments in two congeneric grouse
Geoffrey M. Gould, Gerald G. Carter, Jacqueline K. Augustine. 2019. Ecology and Evolution. DOI: 10.1002/ece3.5687 
Abstract
Color‐based visual signals are important aspects of communication throughout the animal kingdom. Individuals evaluate color to obtain information about age and condition and to behave accordingly. Birds display a variety of striking, conspicuous colors and make ideal subjects for the study of color signaling. While most studies of avian color focus on plumage, bare unfeathered body parts also display a wide range of color signals. Mate choice and intrasexual competitive interactions are easily observed in lekking grouse, which also signal with prominent unfeathered color patches. Most male grouse have one pair of colorful bare part ornaments (combs), and males of several species also have inflatable air sacs in their throat. Previous studies have mostly focused on comb color and size, but little is known about the signaling role of air sac color. We measured comb size and the color properties of combs and air sacs in the Lesser and Greater Prairie‐Chickens (Tympanuchus pallidicinctus and T. cupido, respectively), and investigated whether these properties varied with age and mass. We found that mass predicted color properties of air sacs and that age predicted comb size in the Greater Prairie‐Chicken, suggesting that these ornaments indicate condition dependence. No conclusive relationships between color and age or size were detected in the Lesser Prairie‐Chicken. Color properties of both ornaments differed between the two species. Further research is needed to determine mechanisms that link condition to color and whether the information advertised by color signals from these ornaments is intended for males, females, or both.
---
Diversification rates have no effect on the convergent evolution of foraging strategies in the most speciose genus of bats, Myotis
Ariadna E. Morales, Manuel Ruedi, Kathryn Field, Bryan C. Carstens. 2019. doi.org/10.1111/evo.13849
Abstract
Adaptive radiations are defined as rapid diversification with phenotypic innovation led by colonization to new environments. Notably, adaptive radiations can occur in parallel when habitats with similar selective pressures are accessible promoting convergent adaptions. While convergent evolution appears to be a common process, it is unclear what are the main drivers leading the reappearance of morphologies or ecological roles. We explore this question in Myotis bats, the only Chiropteran genus with a worldwide distribution. Three foraging strategies –gleaning, trawling, and aerial netting– repeatedly evolved in several regions of the world, each linked to characteristic morphologies recognized as ecomorphs. Phylogenomic, morphometric, and comparative approaches were adopted to investigate convergence of such foraging strategies and skull morphology as well as factors that explain diversification rates. Genomic and morphometric data were analyzed from ∼80% extant taxa. Results confirm that the ecomorphs evolved multiple times, with trawling evolving more often and foliage gleaning most recently. Skull morphology does not reflect common ancestry, evolves convergently with foraging strategy. While diversification rates have been roughly constant across the genus, speciation rates are area‐dependent in taxa with temperate distributions. Results suggest that in this species‐rich group of bats, first, stochastic processes have led divergence into multiple lineages. Then, natural selection in similar niches has promoted repeated adaptation of phenotypes and foraging strategies. Myotis bats are thus a remarkable case of ecomorphological convergence and an emerging model system for investigating the genomic basis of parallel adaptive radiation.
---
Habitat Preference and Phenology of Nest Seeking and Foraging Spring Bumble Bee Queens in Northeastern North America (Hymenoptera: Apidae: Bombus)
Jessie Lanterman, Paige Reeher, Randall J. Mitchell, Karen Goodell. 2019. The American Midland Naturalist, 182(2):131-159. https://doi.org/10.1674/0003-0031-182.2.131
Abstract
Bumble bees are among the most abundant and important wild pollinators in North America. Spring nest establishment is a brief and vulnerable stage in the colony life cycle that is poorly understood. Bumble bee nesting activity in temperate North America has received little recent attention, and this knowledge gap is a barrier to conservation efforts. The aim of this study was to investigate the habitat use, nesting phenology, and key food plants of spring bumble bee queens. Through 108 nonlethal surveys of bumble bee queens in spring 2018, researchers observed 451 nest seeking and 555 foraging queens of nine species in Ohio, U.S.A. Spring queen activity began in mid-April and peaked in mid-May, although nest seekers were observed into late June. Nest seeking queens favored woody transitional habitats over open habitats. In accordance queen abundance and diversity increased with the proportion of forest in the surrounding landscape. The proportion of row crops and urban areas negatively influenced queen diversity and the number of nest seekers, respectively. Through a literature review, the earliest emergence dates for each species were compared for 12 datasets to establish an order of species emergence in northeastern North America. Forty-seven species of flowering plants were used by foraging queens. Highly visited food plants included both native and nonnatives(*): Lupinus perennis, Malus spp., Taraxacum officinale*, Lonicera spp.*, Lamium purpureum*, Glechoma hederacea*, Trifolium pratense*, and Mertensia virginica. Systematic field surveys are needed by state to document the timing of spring queen emergence and nesting activities to inform conservation efforts.
---