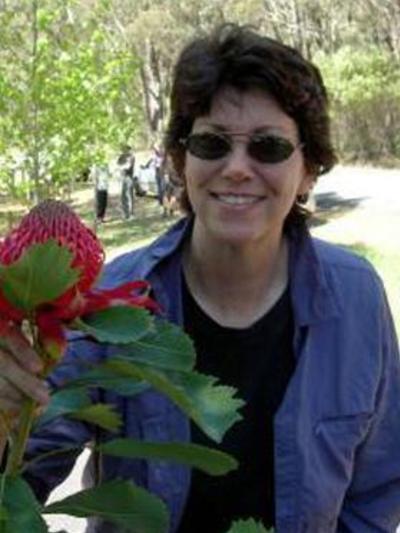 Andrea D. Wolfe
Professor
318 Aronoff Laboratory
318 w. 12th Avenue
Columbus, OH
43221
Areas of Expertise
Plant Systematics and Evolution
Education
B.S. University of Oklahoma, Botany (1988)
Ph.D. University of Oklahoma, Botany (1993)
Plant systematics and molecular evolution; parasitic plants of Orobanchaceae; systematics of Penstemon; systematics of Hyobanche
My primary research interests are focused on examining the dynamics of evolution. I study speciation mechanisms, hybridization, conservation genetics, phylogenetics, and molecular evolution. In other words, I'm a systematist who studies the pattern and process of evolution from a phylogenetic perspective.

I've worked on the systematics of Penstemon (aka as the beard tongues) since I was an undergraduate student at the University of Oklahoma. My Ph.D. dissertation was an evaluation of a classic hypothesis about hybrid speciation in Penstemon. My postdoctoral research focused on molecular evolution of photosynthesis genes in parasitic plants of Orobanchaceae. My time at Ohio State University has been divided between these two interests.

We have ongoing systematics research projects in Penstemon and Orobanchaceae (primarily taxa from southern Africa). We're also working on the bioinformatics of Penstemon genomics.
Selected Publications:
McNeal JR, Bennett JR, Wolfe AD, Mathews S (2013) Phylogeny and origins of holoparasitism in Orobanchaceae. American  Journal of Botany 100, 971-983.

Wolfe AD (2013) Hyobanche thinophila (Orobanchaceae), a new species from the Western Cape of South Africa. Phytotaxa 85, 56-60.http://www.mapress.com/phytotaxa/content/2013/f/pt00085p060.pdf

Morawetz JJ, Randle CP, Wolfe AD (2010) Phylogenetic relationships within the tropical clade of Orobanchaceae. Taxon 59,  416-426.

Wolfe AD, Randle CP, Datwyler SL, Morawetz JJ, Arguedas N, Diaz J (2006) Phylogeny, taxonomic affinities, and biogeography of Penstemon (Plataginaceae) based on ITS and cpDNA sequence data. American Journal of Botany 93, 1699-1713.